Decorating Ideas for College Dorm Rooms
Posted by : Unknown
Thursday, July 3, 2014
For many young students, their college dorm room is their first home away from their families. The college dorm room represents independence and responsibility and marks an important growing period for the young adult. Many choose to decorate their dorm rooms to express their personalities and style. Since most dorm rooms come with room mates, it is important to discuss the decorations before implementing your ideas.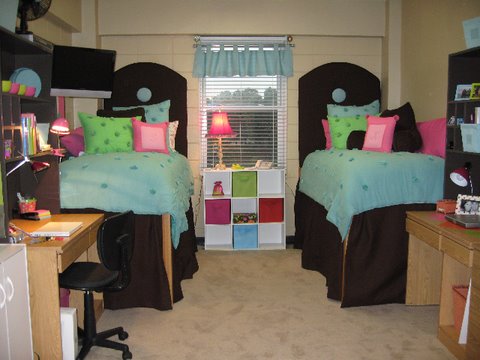 Bedding
The most fundamental way to decorate your half of your dorm room is with your bedding. Make sure you purchase bedding in the correct size: most dorm room beds are twin size. If your college dorm rooms have extra long beds, make sure you purchase extra long sheets. Look for reversible comforters to allow you to change the look of your bed every few weeks so you don't get bored with the same pattern or color. Throw pillows make the bed comfortable daytime use as a couch, and throws and blankets add an extra splash of color or pattern to your bed.
Painting
Some colleges allow students to paint their dorm rooms while others forbid it. Find out if painting is an option before going ahead. Paint the walls in a solid color for a more classic feel. If you're creative, try painting a mural on the wall next to your bed. For a funky look, purchase cans of spray paint and decorate the walls with graffiti.
Posters
Posters are a great way of expressing yourself, especially if your college does not allow wall painting. Check to find out your college's policies on hanging posters and painting, because some might not allow nails or tape on the walls. Choose posters of your favorite movies or bands, or pick out prints of your favorite paintings. Frames add extra style to posters, or you could just tack them to the wall as is.
Work Desk
Your dorm room might also double as your study space. If your dorm room has a work desk or area, find some fun, small decorations to brighten up its appearance. A single stem plastic flower in a small vase next to your computer screen gives you something attractive to look at when you need a short break. Your mouse pad is a good way of expressing yourself---look for one featuring your favorite band or a pattern that you like. Organizational devices such as paper trays and pen holders can double as decorations. Look for them in similar colors to your bedding, or find a clashing pattern if you prefer.