Archive for September 2013
By Brian Goslow
WATERTOWN -
After serving 20 years as an administrator for the City of Boston, Katrina Clark left her position to become the full-time caregiver for both of her parents. She didn't attempt to return to the workforce for over a decade, till after her dad had passed away and her mother followed after a long struggle with Alzheimer's disease.
"I had decided not to place my mother in anyone else's care as it was more important for me to take care of her," she said. "So that's what I did, in addition to caring for three grandchildren."
When Clark went to a temp agency to test for possible positions, she noticed many of the other applicants were only a third her age. "No matter how smart you are, it kind of shatters your confidence when you look at what your competition is for the relatively few jobs that are out there," she said.
She returned home to a phone call from the agency, assigning her to a six-month sales job at Tufts Health Plan. "I had never in my entire life, ever sold anything, not even Girl Scout cookies, so I had absolutely no idea what to expect," she said. Thanks to a rigorous eight-week hands-on training process, Clark said, "a mature woman brought into their employ as a temp" was able to work at a level she didn't expect she was capable of.
Clark, 60, has been employed as a full time member of the company's Medicare Preferred sales team for five years; the health plan's willingness to help her find her strengths - focusing on her skills as an educator and a caretaker in helping her fine-tune her sales pitch - is indicative of the attention it gives to developing its older workers.
Tufts Health Plan was recently honored by AARP and the Society for Human Resources Management with its 2013 Best Employers for Workers over 50 award, an honor given every two years to 50 companies nationwide. Two other Massachusetts-based employers - Massachusetts General Hospital and the Massachusetts Institute of Technology - joined Tufts on the list.
As members of the 78 million baby boomer population retire, they are creating gaps in the workforce since there are not enough younger people to fill the positions. Many boomers want to keep working for economic or social reasons but prefer flexibility, so companies are finding innovative incentives to attract this age group.
As employers in the state and nationwide acknowledge the generational shift currently taking place in the workforce, it is clearly in their best interest to recognize which practices are attracting and retaining quality workers, said AARP Massachusetts executive director Michael Festa.
"We know that older workers have a lot of value," said Festa. "By definition, they've been around the block and they have experiences and credibility from those experiences that really matter to employers as they try to diversify their workforce. In many places, that experience is irreplaceable."
Among those practices which have proven attractive are flexible work schedules that make it easier for employees to look after their elderly parents and, for some, younger children; programs and classes that encourage professional development; and good health benefits and savings programs that assist workers in preparing for their later years.
"Our job (at AARP) is to remind those employers that are thinking, 'How can I improve the quality of my workforce?' to look to those 50-plus workers and recognize that if you employ practices which are not going to hurt your bottom line, you are going to absolutely capture this real quality workforce," said Festa. "By using flexible hours, professional development and job sharing, those kinds of things, as an employer, if you use those practices, you're going to attract those kinds of workers, you're going to retain the ones that you have and you're going to get a better performance bottom line in the day-to- day activities of the job."
To assist older workers looking for employment, the AARP website provides job searching tools, including a search feature for employers in the job seeker's immediate area that have proven to be welcoming.
"If you're a worker hungry to get a job opportunity, you're going to be directed (to those available positions in your region). You'll be looking at these kinds of employers and saying, 'Wow, they've got people like me in their sights,' " Festa said. These listings also include access to enhanced job opportunities throughout the United States, invaluable to folks looking to relocate.
Cathy Marino, 60, has worked in Tufts Health Plan's Medicare Advantage division for five and a half years. She joined the company after being laid off from her previous position. Her employment history included working for two travel agencies and before that, spending 20 years in the psychiatric care field - as well as owning and running two successful businesses of her own.
Marino has utilized a variety of programs offered by the company, including its tuition reimbursement plan that is allowing her to achieve one of her bucket list goals - to earn her bachelor's degree in business through UMass Amherst's "University Without Walls" online degree program, which she will do this spring. She also participates in programs offered by Tufts to learn more about the company and the health care industry in general.
She also takes advantage of Tuft's wellness program, from scheduling regular workouts at its downstairs gym to enjoying daily salads at its salad bar (with the company subsidizing 25 percent of the cost), in its cafeteria, which Tufts likes to call, "the biggest restaurant in Watertown." She hadn't thought about her diet prior to working at Tufts. "I'm a much healthier eater since I started here at Tufts than I ever was before; I've become more aware of what I eat and what it contains," she said.
The ongoing interaction between generations of workers has also kept her mind healthy. Older workers share their experiences with younger workers, Marino said, and in doing so, they've learned from their younger colleagues. "It's a two-way street," Marino said. "It's a great sharing and learning experience from both ends of the spectrum, age-wise."
Lydia Green, Tufts Health Plan's vice president of human resources and diversity, said honors such as the Best Employers for Workers Over 50 award are helpful to the company's brand and business and in attracting high caliber employees. "People do look at lists," she said.
Over 30 percent of Tufts' employees are 50 or older. "They're hugely important to us," Green said. "The health insurance business is a complex, sophisticated business and it requires a lot of job skills to come and work in a business like ours and those are the kinds of individuals who have tremendous experience they can bring to us."
Not only do these new employees arrive with the energy and excitement of starting a new role in their own lives, she added, they bring many years of experience to the workplace. "In general, someone who comes to the job with 20 years of experience can typically hit the ground running and contribute quicker than someone who is fresh out of college," Green said.
While the company is headquartered in Watertown, its network health division is in Medford and it has sales offices in Worcester and Springfield, as well as Providence.
In announcing its "Best Employers" designation, AARP heralded Tufts' Wellness Work/Life Program that offers older worker-designed benefits, including counseling those living with older parents, searching for elder care services and providing legal advice and personal finance consultations.
New employees are automatically enrolled in its 401(k) retirement plan; the company matches contributions made by employees, who can opt out if they don't wish to participate. Tufts also adds to employee accounts at the end of a successful year - invaluable to someone like Clark, 60, who was afraid her decade plus away from the workforce would leave her with an insurmountable gap in her retirement account. "That's been a real blessing," she said.
The company has seen a constant uptick in employees using its wellness programs, including accessing its onsite gym and full-time wellness coach to improve their physical health and visiting the onsite medical clinic, where many took advantage of getting flu shots.
"Half our challenge, quite frankly, is communication, communication, communication and making people aware of the benefits they do have," Green said. That's accomplished through regular e-mails, including a weekly e-mail from CEO James Roosevelt, Jr., colorful posters announcing events, TV screens in its lobby and cafeteria, mailings from vendors, town hall meetings and employees sharing information among themselves.
Such communication and the people-to-people contact make going to work each day a pleasure for Len Johnson, who turned 80 in August; a widower for 17 years, the smiling faces he sees while on the job provide invaluable warmth. "I like the people - not only the people that I work with, but the people I've met or just talked to in the hallways," he said. "I'm a guy who'll strike up a conversation with almost anybody."
Johnson arrived at the company as a temp in 1999, with a resume that includes a degree in business administration, 20 years with the U.S. Air Force and working in computer operations at Raytheon in Andover and other locations after being laid off. "I did that for a couple of years and they (the temp agency) called me one day and asked me if I knew a certain program and I said, 'No I don't,' and I figured it was time to stop doing that."
He was alternating between temporary light warehouse and general office work when he got the call asking him if he'd like to go to Tufts Health Plan to help organize its filing system. "If there's one thing I hate, it's filing," Johnson said. "But they told me that if I was good and did my work, there was a good chance that I would get hired. So I came in and I did what I was asked to do."
He straightened out the files and was soon offered a full-time job working in the pre-registration department. "I've told other people who've come in as temps, if you keep your nose clean and you work hard, there's a doggone good chance that you could be hired because that is the way that I came into the company."
After six years on the job, getting a little tired of the position and looking for something new, Johnson moved to an opening in the case management department, where he answers the phone, directs e-faxes, prepares mailings for health plan members and orders supplies.
He switched to part-time two years ago and while he doesn't have any definitive plans to retire - "As far as I know, Tufts doesn't have a plan where they throw you out after a certain age, which, if they did, I've already gone by it," he laughed - he thinks another two years of work would suit him fine.
"Maybe less than that - I might get lucky and win the lottery or something like that."
Source:
Fiftyplusadvocate
Wednesday, September 25, 2013
Posted by Adam Edelstein
jim-parsons-calls-boyfriend-todd-spiewak-his-favorite-person-on-the-planet-in-20/1379899574_jim-parsons-lg.jpg">
So sweet! A 2013 Primetime Emmy isn't the only prize Jim Parsons is taking home on Sunday, Sept. 22. The Big Bang Theory actor, 40 -- who beat out Don Cheadle, Louis C.K., Alec Baldwin, Jason Bateman, and Matt LeBlanc for Best Actor in a Comedy Series -- was also lucky enough to win the heart of longtime boyfriend Todd Spiewak, whom he acknowledged during his acceptance speech at L.A.'s Nokia Theater.
PHOTOS: What all the stars wore to the 2013 Emmys
After rattling off the names of his costars, family, and manager, Parsons gave one last shout-out to his love of more than 10 years. "[Thanks] to my favorite person on the planet, Todd Spiewak," he said into the mic.
PHOTOS: Hollywood's gay power couples
The three-time Emmy winner has been with Spiewak for more than a decade. He quietly came out as gay during an interview with the New York Times in May 2012. Of Parsons' role in The Normal Heart, writer Patrick Healy wrote: " The Normal Heart resonated with him on a few levels: Mr. Parsons is gay and in a 10-year relationship, and working with an ensemble again onstage was like nourishment, he said."
PHOTOS: Out and proud celebs
The actor has not spoken much publicly about his partner, but Spiewak has been by his side at several awards shows and other events. Parsons also thanked Spiewak in his 2011 Emmys speech.
Source:
Usmagazine
Sunday, September 22, 2013
Posted by Adam Edelstein
bethenny-frankel-calls-jason-hoppy-lazy-trash-and-stupid-in-bitter-div.jpg">Bethenny Frankel Ex Has Secretly Been Recording Her As DIvorce Gets Uglier
Jason Hoppy has been secretly recording Bethenny Frankel! As their messy divorce gets uglier, a judge has ordered the couple from using illegal means and stopped the couple from their dirty tricks.
A juudge has now prohibited Jason Hoppy and Bethenny Frankel from secretly recording each other. Apparently Jason and Bethenny will do anything to gain sole custody of daughter Bryn, even if that means secretly recording each other.
Jason Hoppy has been secretly recording Bethenny's Skinny Girl staff and Bryn's nanny, though TMZ confirms that Bethenny is not guitly of pulling this dirty trick and Hoppy is the only one to blame for the recording. Either way the use of tape recorders, cell phones or computers to record each other is now officaily off limits for Bethenny Frankel and Jason Hoppy. It's going way too far! Can't they keep the peace for their infant daughter?
Bethenny Frankel is fighting for sole custody of daughter Bryn but Jason will do anything to see his daughter. And why is Bethenny so determined to keep her daughter from father Jason Hoppy? Does Bethenny actually think she can keep Jason away from his daughter? Because there is no way Hoppy is rolling over and letting Bethenny get her way. Jst because he can't record her and her staff doesn't mean he doesnt have other dirty tricks up his sleeve.
According to RadarOnline a source close to Bethenny and Jason says "In what world does Bethenny live in where she thinks Jason would just walk away from Bryn? It's clear to Jason that Bethenny once she had their child, she got what she wanted from the relationship and she walked away."
"Anything he can do to push her buttons, it's being done. She can't steamroll Jason," the source added. "They hardly speak to each other, but when they do, it's nasty," the insider said.
To make matters worse Jason Hoppy insists hes just a sperm donor to Bethenny Frankel! Does Hoppy mean the insult or is he just pushing Bethenny's buttons as she fights for sole custody of Bryn?
The divorce drama heats up even more as Jason Hoppy tells Bethenny that he feels he was just 'a sperm donor,' according to RadarOnline.com. Hoppy and Frankel, who actually still live together, are fighting over custody of daughter Brynn. The insults get uglier as the pair throw jabs at each other to piss each other off as they fight for sole custody of their daughter. The once amicable split has turned into an unflattering battle of words for Bethenny and Jason.
Jason Hoppy says he was 'A sperm donor' to Bethenny Frankel because as soon as they had their child Bethenny checked out of the marriage. Was she really just using him? On Bethenny's Bravo reality shows the couple looked very much in love and I personally believe that the fight for their daughter has caused the pair to push each others buttons instead of remembering how much they loved each other. For the sake of their daughter Bethenny should drop the custody battle and let Jason see thier daughter as much as he wants. All of the fighting between the two can not be healthy for baby Bryn. End It Bethenny and stop with the insults Jason!
Bethenny Frankel and Jason Hoppy's divorce is getting extremely unflattering since the news of their divorce. Jason and Bethenny had an "epic argument" a few weeks ago after a divorce court hearing where Bethenny called Jason "trash" and "lazy" and "stupid." The worst part; Bethenny said these nasty comments in front of daughter Bryn.
Jason won't move out of their Tribeca apartment to be close to their daughter and the financial wars continue in divorce court, aoliing with custody battles that Bethenny refuses to budge from.
Frankel allegedy called Hoppy the atrocious names because of Hoppy's stubbornness in court. The ex RHONY just wants to settle and move on and thinks Jason is just being a baby.
A source close to Frankel and Hoppy said about that divorce blowup:
"The argument took place in their swanky Tribeca apartment. She also said Jason was lazy and stupid, because Jason doesn't have a regular full-time job."
The argument caused Jason's lawyer to file documents in the ongoing custody dispute over Bryn.
Hoppy recently told Frankel that he didn't want Bryn to appear on her upcoming talk show, after cameras wre rolling with Bryn in their multi-million dollar apartment. Bethenny was forced to film in her bedroom instead of in the common spaces of the NYC home.
"He doesn't want Bethenny to have Bryn in the audience, or do pre-taped segments for the show. He just doesn't feel that their daughter should be on display on Bethenny's talk show," a source said.
And one insider says Hoppy is careful about what he says around their daughter. "Jason has always been very, very careful to never say anything negative about Bethenny in front of Bryn, the source said, adding that Jason believes Bethenny does not play by the same rules.
An eyewitness says Frankel arrived to court looking frail, tired, and underweight, while ex-husband Hoppy was "tan, put together, sharp and well rested." Hoppy was still wearing his wedding band, but the "Bethenny Ever After" star was not.
The reality star turned talk show host has plenty reason to be exhausted these days. Looking after a three year old, running a multimillion dollar empire, and starring in multiple television shows can't be easy for the native New Yorker. Adding a messy, heartbreaking, publicized divorce to the mix... Frankel looks less like her formal glamorous self and more in desperate need of a nap.
Frankel, 42, split from husband Jason Hoppy, 41, a pharmaceutical sales exec, just before Christmas. The pair married in March 2010 on her reality show "Bethenny Getting Married" and filed for divorce in January 2013.
Bethenny is also asking the court for full custody of daughter, but Hoppy won't budge.
Bethenny will have to prove that she is a more fit parent than Hoppy, taking multiple parental tests and digging up reasons why Hoppy is not as fit to look after Bryn as she is.
She will have to argue that he should receive meaningful visitation but not make day-to-day decisions over the child.
In a past interview, Bethenny opened up about her divorce:
"It's rough. I have to say, divorce is the most difficult thing you could ever go through in your entire life," said the "Bethenny" host.
Though at first Bethenny announced: "We have love and respect for one another and will continue to amicably co-parent our daughter who is and will always remain our first priority," but as the divorce gets more heated the Skinny-Girl CEO is clearly changing her tune.
She told morning anchor Greg Kelly On April 11th that divorce is a "brutal, unnatural situation."
"I never heard how excruciating it is," she admitted, adding that she "never thought" she'd be in this situation.
Source:
Kpopstarz
Warner Bros. shocked fans of J.K. Rowling's best-selling Harry Potter series of novels last week when they announced a new series of films spinning out of the Wizarding World will be coming to theaters-the first of which will have a screenplay from Rowling herself.
Fantastic Beasts and Where to Find Them, which takes its title from a book within the Potter books, is coming soon and, while so far details are scarce, a couple of little stories have popped up over the last day or two which shed a modicum of light on the production.
First of all, in a conversation with HitFix, Harry Potter franchise star Daniel Radcliffe confirmed what everyone already knew: He won't be coming back as Harry for this film.
Radcliffe confirmed for the site that he "won't be involved" in the planned film series and doesn't think co-stars Rupert Grint and Emma Watson will, either. "I don't know if any of us will be" [returning], he explained. "I know nothing about it."
One of the only ones who does know anything, it seems, is J.K. Rowling, and it will be her script that gets made or not, it seems. The Hollywood Reporter suggests that she's insisted on and been granted nearly-unprecedented creative control.
"Sources say Warners cannot hire someone else to rewrite her script without her approval - a gamble for the studio and a departure from the Potter films, which were written by such seasoned scribes as Steve Kloves and Michael Goldenberg. Rowling also has script approval on subsequent Fantastic Beasts films," the report says.
A gamble, maybe, but also almost certainly a selling point among fans worried her material wouldn't be treated well.
Source:
Comicbook
HARTFORD, Conn. -- Well, they did it again.
Michigan played poorly for more than a half, against a lesser opponent, again -- and still walked away with a victory.
Fitz Toussaint ran for 120 yards and 2 touchdowns and the 15th-ranked Wolverines scored 17 unanswered second half points to score a 24-21 comeback win over winless Connecticut on Saturday at Rentschler Field in Hartford, Conn.
The Wolverines (4-0) will now enter a bye week after scary-close wins over Akron and Connecticut.
Michigan quarterback Devin Gardner finished 11 of 23 for 97 yards, 2 interceptions and a fumble.
After another dreadful first half of football put the Wolverines down 14-7 at the break, Gardner made things worse early in the third quarter when he fumbled on a third and short -- allowing Ty-Meer Brown to return the ball 34 yards for a score early in the third quarter.
It was a nightmare, a perfect storm, a debacle.
But it wasn't over.
Toussaint cut the lead to one touchdown three minutes later with a 35-yard scamper on an option pitch.
Early in the fourth, it looked as if Michigan had blown it again -- as Gardner was stopped short on 4th and 2 near the UConn 20. But Desmond Morgan made up for it, making an incredible one-handed interception and returning it down to the Huskie 12. One play later, Toussaint tied it up with a run around the corner.
The comeback would be complete one drive later, as the Wolverines drove deep into UConn territory before settling for a 21-yard field goal from Brendan Gibbons to make it 24-21, Michigan, with just 4:36 to play in the game.
The Huskies were down to one last gasp, and crossed midfield, but a big sack by Frank Clark on third down led to a 4th and 29 -- which fell short with just 1:40 to go in the game.
HIGHLIGHTS
* As bad as the first half was, and as small as the holes were, Toussaint ran incredibly hard. His 35-yard run in the second half was easily the most impressive play he's had this season. He finished with his first 100-yard game of the season.
* The Michigan defense kept the Wolverines in it all night long. The offense was a nightmare, but the defense found a way to keep it from getting out of hand. Connecticut gained just 206.
* It was a win. Michigan found a way. Again. To evade a disaster.

* More than anything, Gardner looks like he's lost almost all of his confidence. He threw two interceptions in the first half, and never seemed to get a feel for the game again. His wide receivers aren't really helping him right now, though, as virtually no one is getting open.
* The offensive line remained the same Saturday, and the result followed. Zero push. UConn dominated the line of scrimmage in the first half, as Michigan had just 120 yards in the first half.
* Da'Mario Jones' special teams hiccup is another result of a young player not being fully engaged into the game mentally. A punt bounces, and hits his leg -- as he's just standing there. That sort of thing can't happen.
ISSUE OF THE WEEK: FINAL VERDICT
Michigan entered the game just 4-5 on the road.
The first half was a nightmare, but Michigan found a way.
This team still has plenty of issues, and they need to be fixed. Another fortunate escape, no question about it.
READER REACTION
Where, exactly, are you at with this team right now?
Source:
Mlive
Saturday, September 21, 2013
Posted by Adam Edelstein
According to the U.S. Naval Observatory, the Autumn Equinox, marking the changing of the Seasons from the last day of Summer to the first day of Fall, occurs on September 22, 2012 at 4:44 p.m. Eastern Daylight Time (20:44 UTC).

Equinox means "equal night" in Latin, capturing the idea that daytime and nighttime are equal lengths everywhere on the planet. That is true of the Sun's presence above the horizon, though it does not account for twilight, when the Sun's rays extend from beyond the horizon to illuminate our gas-filled atmosphere.
2013 Autumn Equinox and 2013 Daylight Savings Time
Naturally, many people think that with the changing of the seasons comes the changing of their clocks at the beginning of Fall 2013. But this is not the case.
It is true however, that a helpful way to remember whether to set our clocks ahead or behind one hour during the daylight savings time is to "Fall Back" and "Spring Ahead."
The beginning of Fall 2013 does not mean the end of 2013 Daylight Savings Time. Daylight Savings Time ends after the Autumn Equinox when days become shorter and shorter heading closer to the Winter Solstice.
So if you are asking, "When does daylight savings time end?" "Do we change clocks when Fall starts?" The answer is the date Daylight Savings Time (DST) will end for Florida is on Sunday, November 3, 2013.
The rest of the United States will also turn their clocks back on November 3, 2013 with the exception of Hawaii and most of Arizona because those states do not practice Daylight Savings Time.
This means that we gain (not lose) an hour when we turn our clocks back an hour to 1:00 a.m. when our clocks reach 1:59 a.m. on Sunday.
Source:
Brevardtimes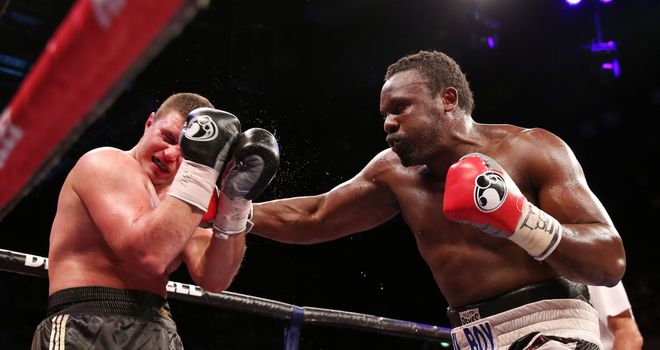 Dereck Chisora (R): Back on the trail for a world title shot
Dereck Chisora won the European heavyweight title after stopping Edmund Gerber in the fifth round at the Copper Box Arena.
The 29-year-old Brit was visibly emotional before the fight following skysports.com/boxing/news/12183/8919613/heavyweight-dereck-chisora-said-dean-powell-was-a-man-everybody-loved">the recent death of close friend Dean Powell, but managed to keep focused during a one-sided contest.
Chisora, who has now won three straight fights after four defeats in five, came into the bout at the lightest weight of his career and looked very sharp against an opponent who had lost just once in 24 fights.
"One of my main guys is not here any more. I cried a bit but kept my composure," Chisora told Box Nation of his mentor Powell.
He added: "I've been training every day. I told my team that I'm going to give myself three years in this game. The next time you see me I'll probably be hitting 15 stones.
"(I'll have) two days off the gym then I'll be back in the gym again. I'm better than all these fighters in Great Britain, I don't know why I let myself down (sometimes). I'm back to normal and I'll push on."
Chisora asserted himself straight away as a number of accurate uppercuts thudded into Gerber's chin.
He stayed on top in the early going and when he really started to unload with left and right hooks in round three, it looked like the end could be imminent.
But Gerber seemed to hurt Chisora with a beauty of a straight right in the fourth and the British fighter was noticeably more circumspect for the rest of that round.
Chisora was back on the attack in the fifth, however, pinning Gerber on the ropes with left hooks and overhand rights, prompting referee Guido Cavelleri to step in with nothing coming back from the German.
Source:
Skysports